Sabine Royalty Trust
SBR
Rating: Good
Author: Waleed M. Tariq
Overview
Due to rising oil and gas prices, the SBR has increased by more than 85 percent in the last year and more than 50 percent year-to-date.
The trust's payouts are inflation-proof and can withstand the expected spike in gasoline prices.
The company is a good investment since it will benefit from rising inflation but also oil and gas prices while also delivering a high dividend.
Bullish
SBR (NYSE:SBR) has up roughly 85% in the last 2 years and 50% this year. The trust's overall earnings are directly tied to oil and gas prices because it pays royalties from its US-producing  and proven oil and gas properties. Understanding the oil and gas market is critical to understanding SBR stock.
The energy industry has typically outperformed inflation by a wide margin, outperforming it seven times out of ten.
A million British thermal units (MMBtu) of Henry Hub natural gas cost an average of $4.90 per MMBtu in March, up from $4.69 per MMBtu in February.
Bearish
The Russian invasion of Ukraine seems to have been a key driver of ongoing oil and gas price swings, and short-term estimations and projections are very volatile because of the contextual ambiguity.
Energy & Inflation: Two Peas In A Pod
Owing to their macroeconomic role, oil and gas prices are closely linked to inflation. More than part of the 1.2 percent monthly increase in the CPI can be attributed to the energy sector.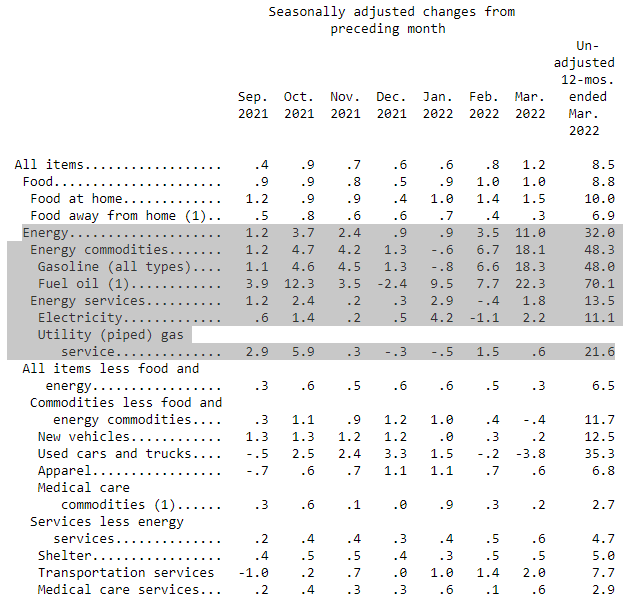 Source: Bureau of Labor Statistics
It's also important to keep in mind that oil costs rise in direct proportion to inflation. Energy stocks can be leveraged in inflationary periods because the two factors are strongly linked.
The Trust
Oil and gas properties in Florida , Louisiana, Texas , New Mexico, Mississippi , and Oklahoma are owned by Sabine Royalty Trust. The trust's wells are operated by BP Amoco, Chevron, ConocoPhillips, and ExxonMobil. The trust pays out monthly post-expense income from royalties on the wells' produced commodities.
After a slow start due to the epidemic, the energy sector exploded in the second period of 2021, with the S&P 500 Energy up about 70% and SBR up nearly 109 percent.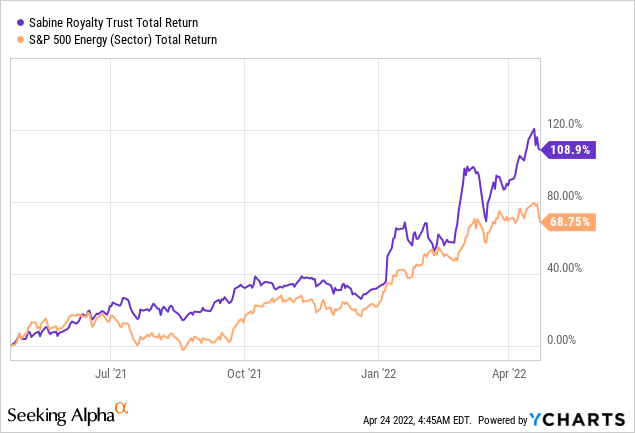 The Trust obtained a weighted average price of $57.95/bbl for oil and $3.2/Mcf for natural gas in 2021, representing YoY increases of 39.2% and 88.2%. From $36 in 2020, the increased pricing resulted in about $61 million in revenue, a 68% YoY increase. Dividends were over $58 million, or $3.97 a unit, rising from $33.3 million, or $2.28 per unit.
Sustainable Distributions
Dividends of $1.71833 per unit were issued for Q1 2022, which is already almost 3 times more than Q1 2021, and $0.73019 per unit for April, which is likewise 2.5 times higher than April 2021.These distributions are heavily influenced by oil and gas prices. So predicting future oil prices is critical to determining the company's distribution sustainability.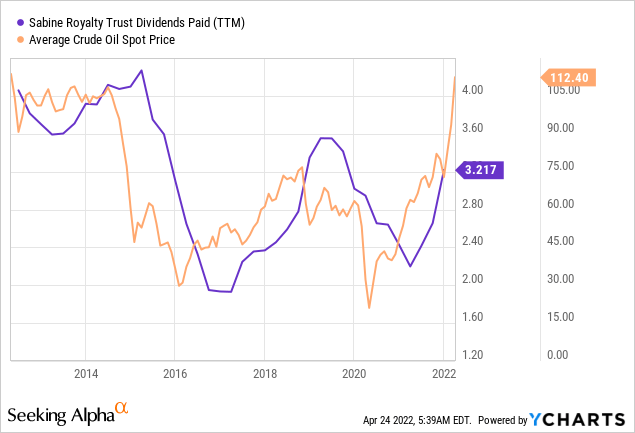 Risks Of Depleting Assets
The company's premium assets are the main risk factor. The trust's balance sheet is dominated by existing assets and liabilities since it cannot acquire new income-producing assets. This exposes the trust to long-term asset depletion.
Conclusion
In periods of strong inflation, energy equities pay large dividends, and SBR is a high dividend energy company. The stock has risen in pace with the energy market and will continue to do so.
Assuming that the market doesn't crash, the company's overall shape will last at least the rest of the year. Higher inflation means higher commodity prices, which means higher revenues for the business and a better return for investors.