Ready Capital Corporation
Stock: RC
Rating: Good
Author: Waleed M. Tariq
Summary
Rising interest rates may hurt Ready Capital's short-term success.
The company's dividend yield is above average, but growth is volatile.
I'm neutral on the stock since, despite being a respectable income source, it has no dividend growth history.
Bullish
RC is one of 14 non-bank SBLCs with an SBA license and preferred lender designation.
RC's return is greater than that of the FTSE US Real Estate Stock's 9.67%, and the firm has $250 million in cash assets to cover dividends.
Since Q1 2020, the firm stock has been rising, exceeding the S&P 1,500 mREITs total return, lagging ABR.
Bearish
RC's floating-rate loans face rising short-term rates. Rising rates limit the motivation for borrowers to refinance, which hurts RC.
RC's earnings growth is predicted to be poor because to the uncertain market, leading to a disappointing annual consensus EPS prediction.
Headwinds from Rising Interest Rates
With the last 25 basis point interest rate hike in March and forecast hikes through 2023, the yield curve has inverted, resulting in short-term interest expenses surpassing long-term interest revenue.
Fixed-rate assets are recorded under fair value rules, susceptible to an impaired penalty if they yield lower returns than swaps and treasury rates.
Investor Returns
Investors evaluate the yield and consistency of mREITs' dividends. ABR's dividend growth is solid.
ABR lags RC in yield and quantity despite similar payout ratios.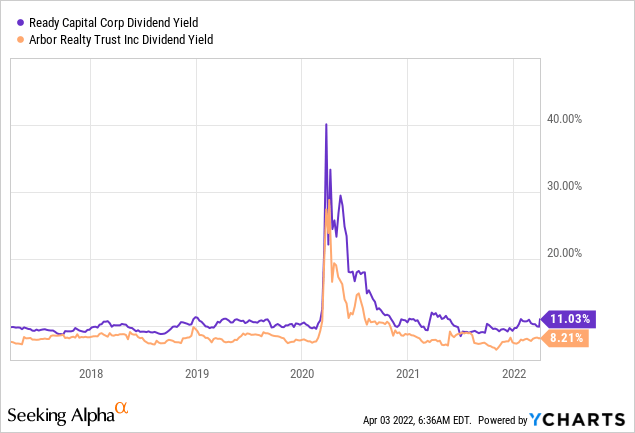 Both companies are good long-term diversifiers, with RC having a higher yield and ABR more steadiness.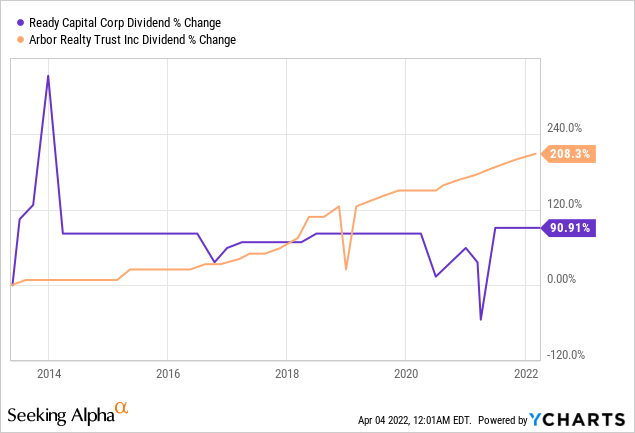 In terms of its growth, ABR totally outmatches RC with its 9 years of straight dividend increase with a three-year CAGR of approximately 11% and a five-year period CAGR of 17.28%, contrasted to RC's 3.28% and 1.628%, respectively.
The stock has an average target price of $17, but it has historically underperformed. Investors should focus on payouts rather than price growth.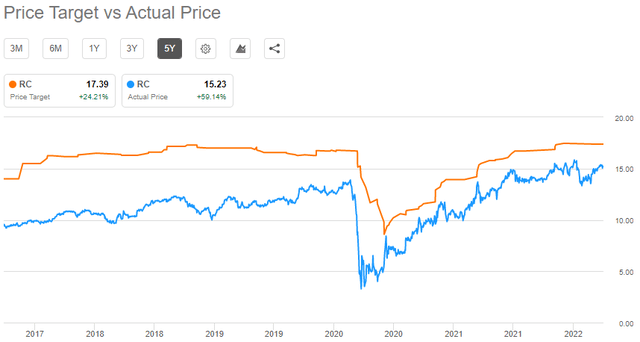 Conclusion
Rising interest rates imperil the company's earnings for its float rate loans. High and sustainable dividends lack continuous growth, as in related stocks.
Ready Capital is an income stock. Strong headwinds and disappointing predicted financial performance may cause a 2022 share price fall, as a result I rate it a hold.