Stock: PLTR
Rating: Buy
Author: Waleed M. Tariq
Overview
Palantir began with government contracts through Gotham.
In 2020, the company's division grew 77%.
Overall clients rose 70% YoY, from 139 to 237 in Q4 2021, with commercial clients up 200%.
Bullish
The company's commercial business is booming as it grew from 17 to 80 U.S. customers in 2021.
Despite rising investment-related expenses, operating margin is constant and GAAP losses are falling, demonstrating operational efficiencies.
With exceptional long-term potential and attractive pricing, the risk-reward ratio favors us.
Bearish
Poor operating margins prompted the company's stock price to fall, threatening profitability.
Palantir's business growth
In 2020, the company's division grew 77%. Comparatively, Foundry's commercial business gained 22% during FY 2020.
The company's total customers grew 70% YoY, from 139 to 237, with 147 commercial customers gaining 200% YoY.
GAAP and Adjusted Operating Margin
Palantir's GAAP and Adjusted gross margins have hovered around 80% over the past 5 quarters, but operating margin has fallen.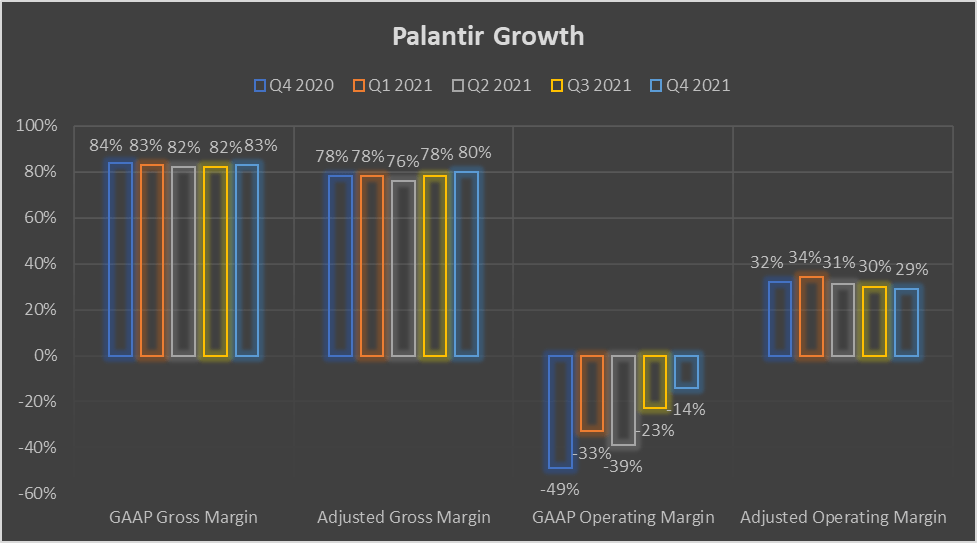 Valuation
The company may earn $2 billion in 2022 if revenue grows 30%. With a $11 share price and $22 billion market value, the P/S ratio is 10.
Conclusion
The company's future hinges on U.S. and international expansion. Palantir expects 30% growth, higher margins, decreased share-based remuneration, and revenue from investments.