Broadcom, Inc.
Stock: AVGO
Rating: Good
Author: Waleed M. Tariq
Summary
The semiconductor business is predicted to grow quickly this decade.

Broadcom's 

robust 

topline 

growth 

is 

likely 

to 

be 

boosted 

by 

the 

5G 

industry.

Despite being expensive, the company has strong price returns, dividend growth, and sustainability.
Bullish
The semiconductor industry will grow rapidly this decade.
In 2021, the global semiconductor business shipped 1.15 trillion units, totaling $555.9 billion.
The semiconductor sector has grown post-pandemic. Broadcom's March top-line grew 16% YoY to $7.7 billion and diluted EPS rose 83% from $3.05 to $5.59.
Bearish
Deloitte claimed that the chip scarcity in the past two years caused revenue shortfalls of more than $500 billion worldwide.
Broadcom's CEO said industry growth is unsustainable.
The Semiconductor Market is Flourishing
The worldwide semiconductor industry shipped a record 1.15 trillion units in 2021, as per the Semiconducting Industry Association (SIA).
China accounted for 35% of semiconductor sales, or $192.5 billion.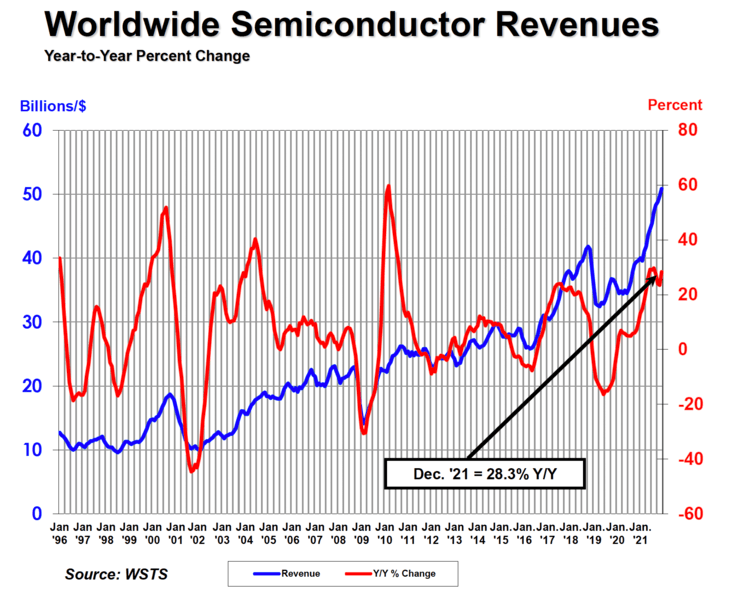 IC Insights predicts semiconductor sales would climb 11% to $680.6 billion in 2022.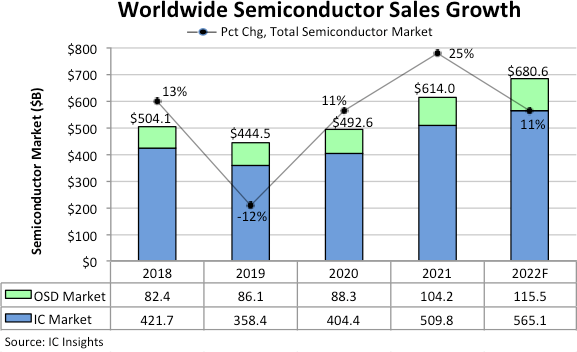 Broadcom's Strong Topline Growth
Post-pandemic economic development has boosted the semiconductor industry. Broadcom reported 16 percent YoY key resource to $7.7 bn and 83 percent YoY adjusted Increase in earnings from $3.05 to $5.59.
Strong business demand and hyperscale and service provider expenditures in next-generation technology boosted its financial performance.
Customer Concentration
The company's reliance on a few consumers is a concern. Apple Inc. (AAPL) makes up almost 25% of the company's net revenue, according to its latest SEC filing.
The company expects to rely on these clients for the foreseeable future and warns that losing or significantly reducing demand from any of its top five end customers might harm its business. Any interruption to such sales endpoint will cause Broadcom's topline to fluctuate.
Valuation
Broadcom's PE, PS, and PB are above the industry median. The firm operates at lower P/FCF,  P/CF, and PEG rates than the industry due to its strong growth and cash flow creation. Broadcom's projected PE of 26 is greater than the industry but lower than its 5-year average of 38.
| | | | |
| --- | --- | --- | --- |
| Particulars | Broadcom | Industry Median | 5-Year Average |
| PE (TTM) | 36.2 | 28.36 | |
| PE (FWD) | 26.42 | 25.93 | 38.22 |
| PS | 9.16 | 3.71 | 6.11 |
| PB | 11.33 | 3.77 | 5.78 |
| PEG | 0.35 | 0.52 | |
| PCF | 18.33 | 21.74 | 14.08 |
| PFCF | 16.3 | 19.82 | 14.23 |
Based on your preferences as a trader, you may pay a premium for Broadcom stock or wait for prices to drop.
Dividends
Broadcom is a cash-making powerhouse with a nearly 46% cash dividend payout ratio. The projected annual dividend yield of $16.40 is greater than the industry norm of 1.5 percent.
Despite the high price, this is below its 5-year average of about 3%.
Conclusion
The relative valuation criteria may not be ideal for cautious investors, but the company has thrived at such values in the past. Even while the past is no guarantee of future gains, the company's outstanding growth prospects mean the stock won't tank soon.