Company Name
Welcome to our website,
Albemarle Corporation
Rating: Good, Date: 07/04/2022, Author: Waleed M. Tariq 
Company overview
The leading producer of Lithium
It has its headquarter in Charlotte
It serves approximately 100 countries
Economic landscape
Albemarle gained 15% in the previous 52weeks but lost 18.5%YTD
Despite a efflux in lithium prices in 2021, Albemarle underperformed the market.
Since that time, the stock has declined in value by about 30%
Bullish
Lithium prices soared last year due to steady demand, but plummeted in April as Chinese output rose 41% in March and 42% year to date. Cobalt prices are expected to rise due to rising fossil fuel prices and EV demand.
Albemarle's Silver Summit mine supplies 20% of Tesla Gigafactory's (TSLA) annual lithium needs. Silver Peak's output quadruples in five years.
Albemarle will invest $30 to $50 million by 2025. The corporation will be stronger against neighboring mines.
Bearish
Rising fossil fuel prices may raise production expenses, affecting net returns.
Due to the company's promising sales, additional competitors will undoubtedly develop, causing fierce competition and a value drop.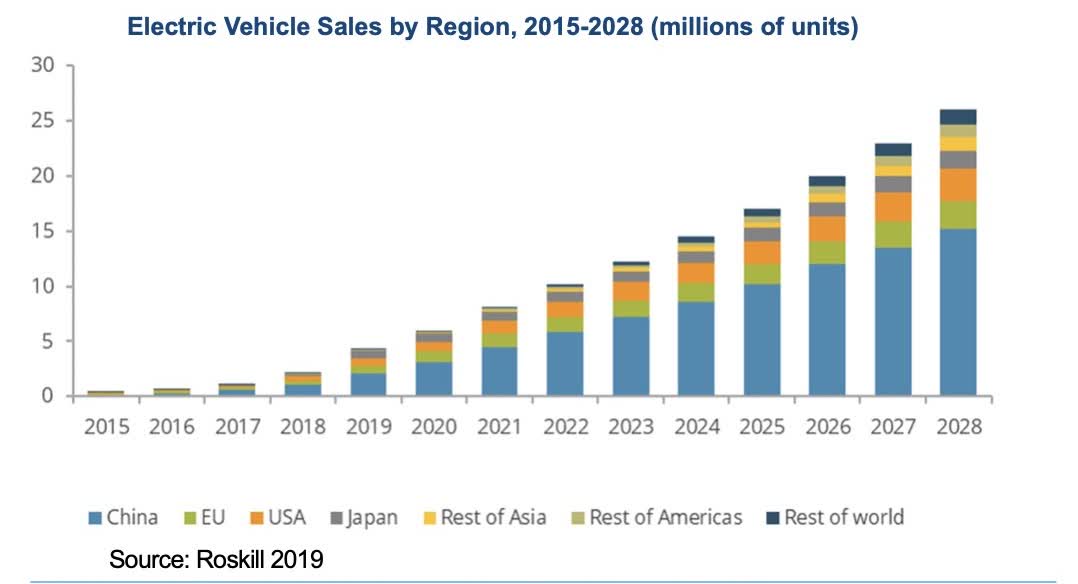 Roskill and Benchmark predict lithium supply and demand are rising and may be constrained by the end of the decade.
Lithium market estimated to expand 20% through 2028.

Li's only mine in North America

Albemarle mines Li in America, produce 1% of global capacity, 20% less than Tesla annually. In five years, production will double.

Recent alterations

By 2020, low pricing hurt company operations and growth. After a 2021 market turnaround and price increase, the company is expanding.
Chilean officials approved a $1b investment to expand its Chilean factory from 60-80 thousand to 140,000 tons over the next five years.
In October, the company began manufacturing in La Negra; it's awaiting commercial qualification.

Better valuation?

2022 EPS was $6.15, up from $1.06. This high EPS means $4.35B in growth, decreasing PS to 5.12.
The stock is appropriately valued with 20% growth in the first 10 years, 10% in the rest, a 7% WACC, and a 2% terminal rate.

Conclusion

Considering Li's market trend, I think the stock price is fair. Albemarle will thrive as the initial comers and leading titans despite new competition.
STOCKS WE HAVE COVERED.
| | | | |
| --- | --- | --- | --- |
| TICKER | RATING  | DATE | AUTHOR |
| Vale S.A | Good | June 17,2022 | Waleed M. Tariq |
| Mueller Industries | Good | June 16,2022 | Waleed M. Tariq |
| Carvana | Good | June 16,2022 | Waleed M. Tariq |
| Opendoor and Offerpad | Good | June 16,2022 | Waleed M. Tariq |
| Medical properties Trust | Good | June 14,2022 | Waleed M. Tariq |
| Arbor Realty Trust | Good | June 14,2022 | Waleed M. Tariq |
| KNOT offshore Partners' income stock and EuroDry's Growth stock | Good | June 13,2022 | Waleed M. Tariq |
| Oxford Lane Capital | Good | June 13,2022 | Waleed M. Tariq |
| Palantir Technologies | Good | June 10,2022 | Waleed M. Tariq |
| Fortitude Gold | Good | June 10,2022 | Waleed M. Tariq |
| Encore Wire | Good | June 9,2022 | Waleed M. Tariq |
| Pangaea logistics solutions | Good | June 9,2022 | Waleed M. Tariq |
| Apollo commercial | Good | June 9,2022 | Waleed M. Tariq |
| valhi | Good | June 9,2022 | Waleed M. Tariq |
| Leidos Holdings | Good | June 8,2022 | Waleed M. Tariq |
| Flotek Industries | Good | June 8,2022 | Waleed M. Tariq |
| Garret Motion | Good | June 7,2022 | Waleed M. Tariq |
| Orbital Energy Group | Good | June 7,2022 | Waleed M. Tariq |
| Vista Energy | Good | June 7,2022 | Waleed M. Tariq |
| Southwestern Energy | Good | June 6,2022 | Waleed M. Tariq |
| Antero Resources Corporation | Good | June 6,2022 | Waleed M. Tariq |
| Cameco | Good | June 3,2022 | Waleed M. Tariq |
| Fulgent Genetics | Good | June 3,2022 | Waleed M. Tariq |
| Chesapeake Energy | Good | June 3,2022 | Waleed M. Tariq |
| Wells Fargo | Good | June 2,2022 | Waleed M. Tariq |
| Nokia | Good | June 2,2022 | Waleed M. Tariq |
| Starbucks Corp | Good | June 1,2022 | Waleed M. Tariq |
| Agnico Eagle mines Limited | Good | June 1,2022 | Waleed M. Tariq |
| JPMorgan Chase | Good | May 31,2022 | Waleed M. Tariq |
| Costo (COST) | Good | May 27,2022 | Waleed M. Tariq |
| Digital Ocean Holdings(DOCN) | Good | May 25,2022 | Waleed M. Tariq |
| Ready capital(RC) | Good | May 24,2022 | Waleed M. Tariq |
| Corner stone value fund(CLM) | Good | May 24,2022 | Waleed M. Tariq |
| Broadcom Inc(AVGO) | Good | May 21,2022 | Waleed M. Tariq |
| Illumina(ILMN) | Good | May 20, 2022 | Waleed M. Tariq |
| Vertex energy(VTNR) | Good | May 19,2022 | Waleed M. Tariq |
| CTO Realty growth(CTO) | Good | May 19,2022 | Waleed M. Tariq |
| Adaptive Biotechnologies(ADPT) | Good | May 18,2022 | Waleed M. Tariq |
| Genco shipping(GNK) | Good | May 18,2022 | Waleed M. Tariq |
| Tractor supply company(TSCO) | Good | May 17,2022 | Waleed M. Tariq |
| Novo Nordisk(NVO) | Good | May 17,2022 | Waleed M. Tariq |
| Grow generation | Good | May 16,2022 | Waleed M. Tariq |
| General dynamics(GD) | Good | May 16,2022 | Waleed M. Tariq |
| Sabine Royalty Trust(SBR) | Good | May 13,2022 | Waleed M. Tariq |
| Amerigo Resources(ARREF) | Good | May 13,2022 | Waleed M. Tariq |
| Brookfield Real Assets | Good | May 12,2022 | Waleed M. Tariq |